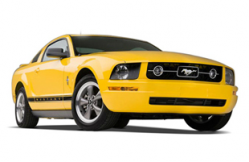 — Ford is recalling over 502,000 cars over fears the driver-side Takata airbags can explode and send shards of metal into the occupants. Ford had already recalled vehicles to replace the driver's side and passenger-side airbag inflators, but those recalls focused on vehicles in areas with high absolute humidity.
Ten automakers have been affected by millions of Takata airbags that can explode when the airbags deploy, leading to injuries and deaths. Although Takata still has no clue about the root cause of why the metal inflators are exploding, the company believes it has something to do with moisture inside the airbags.
The National Highway Traffic Safety Administration has been pushing for nationwide recalls instead of regional recalls, and it looks like Ford is finally taking steps to do just that.
Ford says the recall involves 500,439 model year 2005-2008 Ford Mustangs and 2,050 model year 2005-2006 Ford GT cars.
The automaker says about 462,911 cars are in the U.S. and federalized territories, about 27,516 are in Canada and approximately 7,578 are located in Mexico. Ford says another 4,484 recalled Mustangs and GTs are outside of North America.
The recalled 2005-2008 Ford Mustangs were built August 18, 2004, to June 25, 2007, at Flat Rock assembly plant and the 2005-2006 Ford GT cars were manufactured February 11, 2005, to January 30, 2006, at Wixom assembly plant.
Ford is aware of one accident with an injury that might have been caused by a driver's side airbag exploding, however, the automaker hasn't released a schedule of when the Mustang and GT recall will begin. Ford dealers will replace the driver side frontal airbag inflator in the recalled vehicles.
If you own one of the recalled 2005-2008 Ford Mustangs or 2005-2006 Ford GT cars, contact Ford customer service at 866-436-7332.