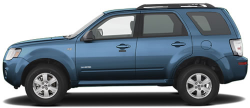 — We're about halfway into 2014 and most of us are already burned out by the number of recalls this year. While much of the focus has been on the millions of cars recalled by General Motors, Ford Motor doesn't want us to forget them, apparently. Ford has just announced four recalls of 1.3 million vehicles after reports of numerous accidents, injuries and fires.
Ford Escape, Mercury Mariner
Ford is calling back over 915,000 model year 2008-2011 Ford Escape and Mercury Mariner SUVs after five accidents and six injuries related to a steering defect.
Ford says the Escape and Mariner have a torque sensor inside the steering column that can cause the power steering to fail. You could still steer by using pure strength but it won't be any fun and could be extremely dangerous.
Affected owners should receive official notification from Ford by July 25, 2014. Ford dealers will perform the repairs based on what diagnostic codes show.
Some SUVs will have updated software for the power steering control module and the instrument cluster module. Other vehicles will need the torque sensor replaced, while others might need the steering column replaced.
Ford Explorer
Ford is recalling over 195,000 model year 2011-2013 Explorer SUVs because they can lose their power steering, but for reasons other than the Escape/Mariner recall.
The Explorer, has an electrical connection in the steering gear that can fail and leave you to manually steer the vehicle. The defect has already caused a reported 15 accidents and two injuries.
Ford dealers will repair the SUVs based on the results of diagnostic codes.
Ford Taurus
About 196,000 model year 2010-2014 Ford Taurus sedans have defective license plate light assemblies that can corrode, cause a short, then cause a fire. In fact, Ford says they know of 18 fires related to the defect.
The recalled cars were originally sold or currently registered in Connecticut, Delaware, District of Columbia, Illinois, Indiana, Iowa, Maine, Maryland, Massachusetts, Michigan, Minnesota, Missouri, New Hampshire, New Jersey, New York, Ohio, Pennsylvania, Rhode Island, Vermont, West Virginia, and Wisconsin. Numerous areas of Canada are included as well.
If you don't live in one of those states, Ford will still fix your Taurus but you'll need to ask them to do it.
Ford dealers will replace the license plate light assemblies.
Ford Fusion, Lincoln MKZ
The dreaded floor mat is the cause of about 82,000 model year 2006-2011 Ford Fusion and Lincoln MKZ cars. Taking a cue from Toyota and its floor mat problems over the years, Ford says the driver's side all-weather floor mats could get stuck under the gas pedals. Can you say, "unintended acceleration?"
Ford says they are aware of two accidents related to the problem, but thankfully no injuries.
As with the Ford Taurus recall, Ford has not released info about when the floor mat recall will begin.
Read what others have to say about the vehicles named in these recalls: