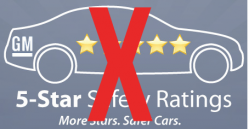 — One of the first things a car buyer will check on a dealer lot is the window sticker on the car. The sticker, known as a Monroney sticker, gives details about the car, from pricing to optional equipment.
Automakers also proudly display safety ratings on window stickers, especially if the vehicle has received 5-star ratings from the National Highway Traffic Safety Administration (NHTSA). A good safety rating from NHTSA can mean the difference between the car remaining on the lot or appearing with a SOLD sign in the window.
Most consumers would be upset to buy a car with 5-star safety ratings only to later find the ratings were incorrect. But what if you purchased a car with 5-star ratings only to find out months later the car hadn't even been rated by NHTSA?
A Florida woman says she knows that feeling, and she's suing General Motors alleging the automaker violated the Florida Deceptive and Unfair Trade Practice Act.
According to the class-action lawsuit, Geri Siano Carriuolo bought a 2014 Cadillac CTS sedan which had a window sticker claiming the Cadillac CTS had achieved 5-star ratings from NHTSA. The Monroney sticker listed the 5-star safety ratings in three categories: Frontal Crash Driver, Frontal Crash Passenger and Rollover.
According to the complaint, Carriuolo received a letter from GM four months later indicating the window sticker was wrong, way wrong. The 2014 Cadillac CTS didn't have any safety ratings from NHTSA.
The Cadillac CTS lawsuit says the false safety claims gave consumers a false sense of security and decreased the value of the cars.
If you purchased a 2014 Cadillac CTS and want to learn more about the class-action lawsuit, contact www.clarkfountain.com.
To read what owners say about their 2014 Cadillac CTS cars, click here.