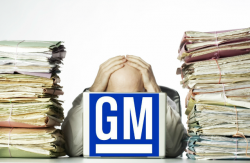 — General Motors has been fined $28,000 by the National Highway Traffic Safety Administration (NHTSA) for missing an April 3 deadline to answer 107 questions about GM's failure to recall over 2.5 million vehicles with a defective ignition switch. NHTSA says GM will keep incurring a $7,000 per day fine until the questions are answered.
All the questions concern GM's decision to wait 10 years to recall millions of cars with an ignition switch that could easily move out of the "run" position. A simple bump in the road or items on a key ring could cause the ignition switch to move and shut off the cars.
The defect caused air bags to fail right when they were needed most, possibly killing at least 13 people. Some of the estimates have the number of fatalities much higher.
The affected cars include the:
GM knew they would miss the deadline and informed NHTSA that questions about technical engineering would take longer to answer.
However, NHTSA says although GM has submitted over 270,000 pages of documents related to the ignition switch defect, GM still has not answered over a third of the original 107 questions. Many of those unanswered questions relate to non-engineering questions.
GM could face the U.S. Justice Department if the automaker keeps making NHTSA wait for answers.