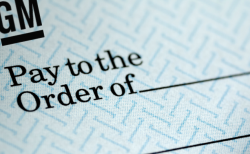 — While GM is facing dozens of lawsuits over defective ignition switches, the automaker has created a compensation fund for victims of GM's deadly 10-year delay in recalling millions of cars.
In what could cost GM billions of dollars, the program will be for those who have lost loved ones or who have suffered injuries, with family members of those who died eligible for at least $1 million. The spouse or dependent of a deceased victim will qualify for an additional $300,000.
Claims must be submitted from August 1 to December 31, 2014, but accepting the money will mean giving up the right to sue GM.
The automaker said there will be advantages to those who accept the compensation offer.
Based on accident reports related to the faulty ignition switch, some occupants had been drinking or not wearing seat belts at the time of the accidents. Furthermore, police reports indicated a high rate of speed could have contributed to some of the crashes.
GM said in a court trial it could bring up those facts as a defense, but for anyone who submits a claim, a record of drunk driving or driver error would not prevent anyone from receiving money from the fund.
Something yet to be seen is what kind of evidence a person will need to submit on a claim. Considering many accidents occurred years ago, some GM owners may find it nearly impossible to "prove" certain things. In fact, many of the cars involved in accidents were destroyed in, or shortly after, a crash.
"We are taking responsibility for what has happened by taking steps to treat these victims and their families with compassion, decency and fairness," said GM CEO Mary Barra. "We made serious mistakes in the past and as a result we're making significant changes in our company to ensure they never happen again."