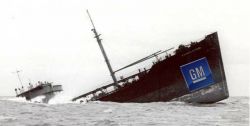 — General Motors might have been known as "Government Motors" after receiving billions of dollars in a government bailout, but now the government might be asking GM for $35 million for failing to follow recall regulations. U.S. safety regulators want to know why it took 10 years for GM to recall 1.3 million cars with ignition switch problems.
Last month, GM recalled 780,000 model year 2005-2007 Chevrolet Cobalt and 2007 Pontiac G5 cars because the air bags could fail to deploy in a crash. GM said a defect in the ignition switch could cause it to move out of the "run" position from a bump in the road, a crash, or even the weight of the key ring. The air bags are disengaged if the key is not in the run position.
Less than two weeks later, GM expanded the recall to 1.3 million cars and added the 2003-2007 Saturn Ion, 2006-2007 Chevy HHR, 2006-2007 Pontiac Solstice, and the 2006-2007 Saturn Sky.
Now the National Highway Traffic Safety Administration (NHTSA) has questions for GM. A lot of questions.
NHTSA sent GM a 27-page document with 107 specific questions about the history of the ignition switch problem. The questions, which must be answered under oath by April 3, cover everything from lawsuits related to the problem to internal memos.
Some of the questions go back to 2004 when GM first learned of the problem, including the names of everyone who knew of the problem.
Federal rules require an automaker to notify NHTSA of a defect within five days of finding the defect. Waiting 10 years could easily qualify GM to pay the maximum $35 million penalty, but that's still not much for a company that made almost $4 billion last year.
GM has a lot at stake considering the defect has been traced to 31 crashes and 13 deaths, a fact GM made clear in a response to the government inquiry:
"We are fully cooperating with NHTSA and we welcome the opportunity to help the agency have a full understanding of the facts. In addition to getting NHTSA the information they need, we are doing what we can now to ensure our customers' safety and peace of mind. We want our customers to know that today's GM is committed to fixing this problem in a manner that earns their trust."