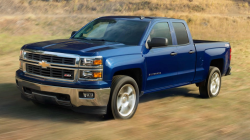 — General Motors is on a roll with their Chevrolet Silverado and GMC Sierra pickup trucks, but it's not a roll GM appreciates. For the fourth time in seven months, GM is recalling those trucks, this time because of a dangerous condition that could cause a fire.
GM said they are recalling 370,000 of their redesigned 2014 Chevrolet Silverado and GMC Sierra pickup trucks because parts of the exhaust could overheat and cause a fire. So far eight fires have been reported, although no injuries have occurred. All the fires happened in cold areas and GM says they warned customers about leaving the trucks running without supervision. Warning signs to watch for include a yellow "check engine light" that stays on and an "engine power reduced" message.
The recall includes trucks with 4.3 liter and 5.3 liter engines in the United States, Canada, Mexico and other markets. Over 300,000 of the trucks are located in the U.S.
The National Highway Traffic Safety Administration has not released a recall schedule yet, but owners should be receiving letters from GM within two weeks. GM dealers will reprogram affected software, which should take about 20 minutes to complete.
With questions, contact Chevrolet at 800-222-1020 and GMC at 800-462-8782.
Just last week GM recalled 10,000 model year 2012-2013 Chevrolet Silverado HD and GMC Sierra HD trucks because of gas gauge problems. In July, 2013, GM recalled both models because the air bags could fail in a crash. In November, 2013, GM again recalled the Silverado and Sierra because the head restraint could fail in a crash.