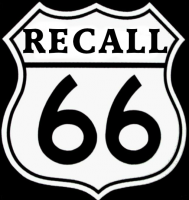 — Who's counting the number of recalls ordered by General Motors in 2014? Primarily GM, as the automaker announced five recalls bringing the number of separate recalls so far this year to 66. The total number of recalled vehicles has topped 29 million and even GM management seems to be losing track of all the numbers.
In small print on its website, GM says recalls conducted on April 29 and May 19 might look to be two separate recalls, but GM counts them as one because both recalls involve the same shift cable defect. Additionally, GM lost count on one recall by counting some of the same cars twice.
When you think about it, it's no big deal because once an automaker recalls over 29 million cars in eight months, it's probably not a disaster to miscount by a few thousand cars.
Saturn VUE
GM is recalling 202,115 model year 2002-2004 Saturn VUEs for...wait for it...ignition switch and ignition key problems. It's been a few days since GM recalled some kind of car for ignition problems, so we guess it was time.
The automaker says the key can be removed from the ignition when the ignition is not in the "off" position. GM is warning Saturn VUE owners to make sure the vehicle is in "park" before walking away. If it's a manual transmission, put the VUE into reverse gear and set the parking brake.
GM is aware of two crashes and one injury that might be tied to the defect, but the automaker doesn't know when it will start fixing the vehicles. GM does know that dealers will inspect for key pullout or key binding and replace the ignition cylinder and key set, if needed.
Cadillac ATS, Buick Encore
GM says 48,059 model year 2013 Cadillac ATS four-door sedans and 2013 Buick Encores are recalled because of problems with the seat belt pretensioners. The defect is found in the front lapbelt pretensioner cables that might not lock in place, allowing the cable and the retracted lapbelt webbing to return to their original length. That can leave a person moving around too much in the seat during a crash.
GM discovered the defect during routine frontal crash testing and has ordered dealers to stop selling the cars until they are repaired. GM dealers will replace both front outboard lapbelt pretensioners but hasn't said when the recall will begin.
Chevy Impala
Almost 15,000 model year 2014-2015 Chevrolet Impala sedans have a bad latch on the front console storage compartment. GM says the problem is found on some LT and LTZ models that now must be fixed before they can be sold.
The latch works based on inertia and might not hold the door closed in a rear crash. GM is unaware of any injuries related to the problem and dealers will fix things by replacing console door storage compartment door latch.
Chevy Aveo, Pontiac G3
Almost 2,000 model year 2009-2010 Chevrolet Aveo and model year 2009 Pontiac G3 cars have what GM calls a "brake fluid issue" that could cause braking problems. All the automaker is saying right now is this recall originally started as a "customer satisfaction program" in 2012. Apparently customers weren't satisfied.
Chevy Spark
GM says over 1,900 model year 2014 Chevy Sparks will be called back because both left and right lower control arm attaching bolts may not be secured properly. GM says it has already informed owners to have their cars towed to dealerships to have the bolts inspected and tightened. The good news is GM said no accidents or injuries have been reported because of the defect.
If you own one of the recalled vehicles and need to scream at someone, use one of the following numbers:
- Chevrolet: 800-222-1020
- Buick: 800-521-7300
- Cadillac: 800-458-8006
- Pontiac: 800-762-2737
- Saturn: 800-553-6000
If you're confused by all the GM recalls, take a number and join the crowd, but be careful about using GM's website to learn if you're driving a defective car. Normally you can use your vehicle identification number (VIN) to find out if your car has been recalled. However, GM's site has been telling owners their cars are not under a recall even when they are.
The National Highway Traffic Safety Administration said the GM website has been providing misleading and incorrect information and the automaker must fix the errors.
"Consumers who have used GM's tool and found no recall should recheck." - NHTSA
To read what owners complain about the most with the vehicles named in the recalls: