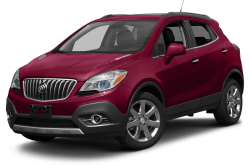 — Bewildered General Motors owners should prepare to make more dealer appointments as GM ordered a recall of 124,000 popular models.
GM lists the recalled models as the 2013-2014 Buick Encore and Cadillac ATS; 2014 Cadillac CTS, ELR, Chevrolet Caprice and SS; and the 2014-2015 Chevrolet Silverado and GMC Sierra.
The automaker says the front seats could actually separate from the body of the vehicle and send an occupant flying in a crash, along with the seat. GM blames the problem on a bad weld on the seat hook bracket assembly.
The National Highway Traffic Safety Administration imparts the following wisdom about the GM defect:
"A seat that does not stay secured increases the risk of occupant injury in a vehicle crash." - NHTSA
The recall should begin in late August 2014. GM dealers will inspect the seat hook bracket assembly weld and if needed, replace the lower seat track.
If you own one of the recalled vehicles and have questions, call one of these numbers.
Buick: 800-521-7300
Cadillac: 800-458-8006
Chevy: 800-222-1020
GMC: 800-462-8782
GM's number for this recall is 14340.
Click on a model below to read what people say about their own vehicles.