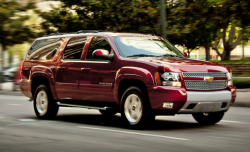 — General Motors is adding another 89,000 vehicles to its laundry list of recalls for 2014. By this time--and considering people are still flocking to buy GM cars--the automaker probably believes it has nothing to lose by recalling more cars.
Chevrolet Silverado, GMC Sierra LD/HD, Tahoe, Suburban, Yukon, Yukon XL
GM is recalling about 57,500 trucks and SUVs because the base radio can prevent warnings if the key is in the ignition when the driver's door is opened. The problem could also block a chime from working if a front seat belt is not buckled. The recalled vehicles include the 2014 Chevrolet Silverado LD, GMC Sierra LD, 2015 Chevy Silverado HD, Tahoe, Suburban, GMC Sierra HD, Yukon and Yukon XL.
GM says there have been no injuries or crashes related to the defect. Dealers will need to reprogram the radio control module.
Buick Verano, Chevy Camaro, Cruze, Sonic
Air bag problems have caused the recall of 31,520 model year 2012 Buick Verano, Chevrolet Camaro, Cruze and Sonic compact cars. GM says a defect in the shorting bar inside the air bag can contact the air bag terminals.
A driver would know the problem has occurred because the air bag light would illuminate. However, the air bags will completely fail if the terminals and car are touching each other in a crash.
The automaker knows one injury directly attributed to the defect and are aware of even more crashes where air bags failed. However, GM hasn't linked the defect directly to the other crashes.
Chevy Spark, Buick Encore
More air bag problems as 61 model year 2013-2014 Chevrolet Spark and model year 2013 Buick Encores have air bags that could fail in a crash, although GM doesn't know of that happening yet. The problem is caused by a front passenger end cap that could separate from the air bag inflator.
Chevy Corvette
In the smallest recall, 33 model year 2014 Chevrolet Corvettes have air bags that could fail in a crash. GM says an electrical short in a module could cause the front air bags and seat belt pretensioners to become disabled. You won't know that until you need those things during an accident.
GM dealers will replace the sensing and diagnostic module.
The National Highway Traffic Safety Administration hasn't released a recall schedule and all GM is saying is owners will receive letters in the mail. GM is offering "courtesy transportation" if you need it.
CarComplaints.com will update these recalls when additional information is available. For now, check out what others say about the vehicles named in these recalls.