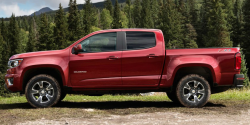 — General Motors hasn't called it a recall yet, but the automaker has ordered a stop-sale on model year 2015 Chevy Colorado and GMC Canyon pickup trucks for air bag problems. Once it is classified as a recall, it will add to the 30 million vehicles recalled by GM in 2014.
The automaker says the air bag problem is caused by wiring on the driver's side of the truck. The defect was caused during manufacturing and can lead to a driver-side air bag failing to deploy properly in a crash. GM believes the problem can be fixed by installing new software to reprogram the air bag's sensing and diagnostic module.
GM says the Canyon and Colorado are safe to drive as long as you want to take a chance that you won't be in an accident. The automaker says for those who don't want to chance it, a free loaner vehicle will be provided upon request.
GM didn't say how many trucks are involved but most are thought to be in GM's hands because shipments of the 2015 models have been going on for only about three weeks.
The automaker has notified the National Highway Traffic Safety Administration about the upcoming recall, but GM didn't say when that recall will begin.
Owners of the 2015 Chevy Colorado and 2015 GMC Canyon pickup trucks can call 800-222-1020.