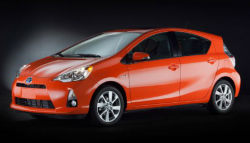 — The National Highway Traffic Safety Administration (NHTSA) has denied a 2013 petition to investigate 24,000 model year 2012 Toyota Prius c hybrid cars.
The petitioner, Jessie A. Powell, claimed the brake pedal in her Prius c went to the floor twice and left her unable to stop normally. The car was towed to a dealership after the first brake pedal incident and a second incident occurred in the dealer parking lot after a diagnostic check had been performed. The car was inspected after the second event and even after a test drive, no problems were found.
Additionally, Ms. Powell claimed a software problem caused her Prius to violently shift from battery power to motor operation.
NHTSA reviewed consumer complaints about both issues and found the number of complaints too low to justify an official investigation.
There have been two Toyota Prius recalls involving brake problems, one in 2010 and another in 2013. However, NHTSA said these recalls have nothing to do with the 2012 Prius c.
Although saying there is no guarantee a safety defect doesn't exist in the 2012 Prius c, NHTSA says the petition is denied because any additional investigation is unlikely to find a defect.