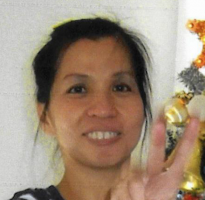 — The family of Hien Tran has filed a lawsuit against Honda and Takata after the death of the 51-year-old Orlando woman in a Honda Accord. Hien Tran's death was originally thought to be a homicide because of severe wounds Hien suffered when her 2001 Accord crashed in a low-speed accident.
Police and paramedics saw Tran was wearing a seat belt and the windshield was intact, yet Tran had deep stab-like wounds on her neck.
The cuts were so severe on Tran's neck the police started looking for a "person of interest" in an alleged murder caused by a knife or similar object. Then the real "murderer" was identified during the investigation as the air bag that exploded when it deployed in the crash.
The Discovery of Dangerous Medal Shards
Along with the deep cuts to Hien Tran's neck, investigators found shards of metal all over the cabin of the Accord, including in the deflated air bag. The air bag, made by the Takata Corp., had numerous tears where metal fragments exploded out of the air bag.
Both Takata and Honda are facing government investigations, recalls, and lawsuits related to defective metal canisters called inflators. Those inflators can explode when the air bags deploy and cause metal shrapnel to shoot out of the air bags and into the car's occupants.
The Wrongful Death Lawsuit
The Hien Tran wrongful death lawsuit alleges Honda and Takata knew the air bags were defective but concealed that fact from the public. Further, the lawsuit claims Honda had reports of air bag problems in 2004, but the automaker didn't believe it was enough to notify anyone other than Takata.
The lawsuit says Honda has been settling lawsuits over the exploding air bags but has tried to keep everything hush hush. Additionally, the suit alleges that a week before Tran was killed, Honda told its dealers not to contact customers about the air bag defects because of a parts shortage.
In the tragic case of Hien Tran, a recall notice was eventually mailed about her Honda Accord and its dangerous air bags. That recall notice arrived a week after she was killed.
The Hien Tran wrongful death lawsuit was filed in the Circuit Court of Orange County, Florida - Dang, Tina Tran vs. Honda Motor Company LTDet al.
Tran's family is represented by the Didier Law Firm, P.A.