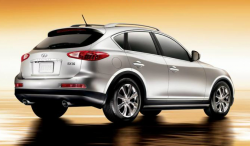 — Alleged Infiniti EX35 steering problems will be under the government microscope after the National Highway Traffic Safety Administration (NHTSA) opened an investigation into the crossover utility vehicle. NHTSA says about 17,000 model year 2008 Infiniti EX35 vehicles might have steering wheel shafts that can separate and cause a total loss of steering.
NHTSA says reports from two EX35 owners allege a complete loss of steering control, including the steering wheels rotating in every direction without turning the wheels of the cars.
In one case, the owner of a 2008 Infiniti EX35 complained about too much play in the steering wheel while traveling 40 mph. Once the EX35 was brought to a stop, the driver lost all steering control and watched as the steering wheel turned 360 degrees without the wheels/tires turning.
The second Infiniti EX35 owner said the steering wheel was loose and then completely separated once the vehicle was stopped in a driveway. Repair records show a dealer found a failed steering shaft bearing and then replaced the steering column and shaft assembly.
The federal investigation will determine if a safety defect exists and if 17,000 model year 2008 Infiniti EX35 vehicles need to be recalled.
CarComplaints.com will update you with results of the EX35 investigation.
(The Infiniti EX went through a name change and is now called the Infiniti QX50.)