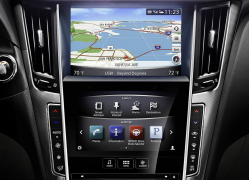 — The Infiniti InTouch app is the target of a lawsuit that alleges the InTouch "infotainment" system is pretty much worthless in the 2014 Infiniti Q50.
Lead plaintiff Leon Zingerman purchased a 2014 Infiniti Q50 with the InTouch system that is advertised as a way to use email and calendars, along with Facebook and music-related services. The InTouch system requires Infiniti owners to download the InTouch application onto their phones and to perform software upgrades.
The lawsuit alleges although the Q50 was advertised as having the InTouch system, Zingerman couldn't use it for a year because the app wasn't available for download. The suit also claims Infiniti has constantly promised products would be released to make the InTouch system work, but those efforts haven't done the job.
The lawsuit further alleges Infiniti didn't tell potential buyers the app didn't work and the automaker didn't offer any compensation for the faulty system.
One New York owner of a 2014 Infiniti Q50 said as much to CarComplaints.com.
"Infiniti knows the system does not operate correctly, it never did. Apps don't work from phone, at all!! Infiniti says they're working on problem but have no idea how to fix. Salesmen said it will be soon, that was on April 1st (I guess the jokes on me). I paid over $40,000 for the car and what was promised and shown in manual does not and never did operate fully. FOR A SUPPOSEDLY LUXURY CAR LINE THEY ARE LOSING CAR BUYERS." - 2014 Infiniti Q50 owner / Tonawanda, New York
The lawsuit alleges Zingerman paid more than he should have for the Q50 believing the car had a working infotainment system. Additionally, Infiniti allegedly falsely advertised the advantages of buying a car with the InTouch system while knowing the app didn't work.
The Infiniti InTouch Lawsuit was filed in the U.S. District Court for the Northern District of Illinois - Leon Zingerman, Niles Family Dental v. Nissan North America Inc.
Mr. Zingerman is represented in the Infiniti InTouch lawsuit by Barnow and Associates PC.
Infiniti isn't the only automaker that has taken heat over its infotainment system. Click below to see how Ford has had nothing but trouble with its MyFord Touch, MyLincoln Touch and MyMercury Touch. It's looking like any device with the name "Touch" maybe shouldn't be touched?