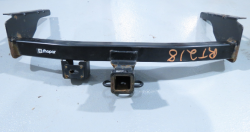 — Owners of 1.5 million Jeeps might finally have their vehicles equipped with a trailer hitch to allegedly protect the rear gas tanks from exploding in a crash.
The dangerous soap opera began over four years ago when the National Highway Traffic Safety Administration (NHTSA) opened an investigation into model year 1993-1998 Grand Cherokees and 2002-2007 Jeep Liberty SUVs. After years of complaints, NHTSA wanted to know if the placement of the gas tank could cause the SUVs to easily catch fire in a rear-impact crash.
Newer Jeep Liberty and Grand Cherokee SUVs have gas tanks located in front of the rear axles. However, older models have gas tanks located behind the rear axle, something the Center for Auto Safety says contributed to almost 500 fatalities in rear-impact fires.
NHTSA spent four years investigating the alleged defect and asked Chrysler to recall 2.7 million vehicles in June 2013, a request Chrysler denied. A compromise was reached and both sides agreed 1.5 million Jeeps would be "fixed" in a safety campaign, even though Chrysler kept denying the SUVs were dangerous.
The so-called "fix" would require that Chrysler install trailer hitches in an attempt to protect the gas tanks, although Chrysler never tested if the trailer hitch would help. NHTSA performed its own testing and determined a hitch might help in a low-speed crash but not in a high-speed impact.
Fast-forward to today and Chrysler is finally preparing to notify owners to bring their Jeeps to a dealership for repair. With pressure from the government about why it was taking so long to start the repairs, Chrysler said it was waiting on suppliers to play catch-up in supplying each trailer hitch.
"To accommodate the high-volume production required for this campaign, Chrysler Group had to find and enlist multiple new supplier partners to supply volume of this part that far exceeded normal demand. Parts production has commenced. Our supplier partners are committed to a work schedule of three shifts per day, six days per week, with occasional Sunday production." - Chrysler
If you own one of the recalled Grand Cherokees or Libertys and think your ship has finally come in, don't hold your breath. Owners might finally receive recall notices in August 2014, but Chrysler says all the affected SUVs won't be repaired until March 2016.