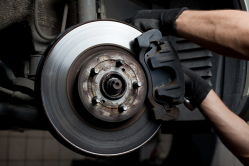 — In a case that shows what it means to read and understand the small print in a warranty, a federal judge has dismissed a class-action lawsuit against Volkswagen about allegedly defective brakes.
In Speier-Roche v. Volkswagen Group of America Inc. et al., plaintiff Sandra Speier-Roche claimed the brakes and rotors on her 2007 Audi Q7 were defective and needed constant replacement.
Other drivers have complained about the same problems in the 2007 Audi Q7, including a Pennsylvania driver who wrote to CarComplaints.com.
"This very expensive car needs new brakes annually. I've just done them again. They are never under warranty. The cheapest brake job was $1200, but at most places it's $2k."
Lead plaintiff Speier-Roche leased the Audi Q7 in 2007 that included a 48-month/50,000-mile warranty that covered most of the vehicle. However, the warranty specifically said brake pads and rotors are covered for only 12 months or 12,000 miles.
Speier-Roche started having brake problems in 2008 when her car had about 7,000 miles. The Audi dealer replaced the pads, rotors and sensors at no charge because the car was clearly under warranty.
Speier-Roche brought her car to a dealer again in March, 2009, and was advised to replace the brakes.
In February, 2010, Speier-Roche paid to have the brakes replaced because the car had 21,212 miles on it and was past its warranty period.
In August, 2011, Speier-Roche was again advised to replace the brakes, with the dealer offering to cover 50 percent of the cost.
In August, 2013, the brakes had to be replaced again and the Audi dealer again covered part of the cost. Speier-Roche then filed the lawsuit on September 30, 2013.
The federal judge dismissed the case because Audi covered the brake pads and rotors as agreed in the warranty. Beyond 12 months or 12,000 miles, Audi was not under obligation to cover the items, yet Audi did at least partially cover the cost.
"lt is undisputed that Plaintiff was not charged for the brake pad and rotor replacement within the 12-months/12,000 mile parameters of the Warranty applicable to brake parts. She cannot assert a claim for breach of express warranty."
The judge said even if there would have been a breach of express warranty, the case was filed too late because Florida has a five-year statute of limitations for breach of express warranty claims.
It's good news for VW after the automaker settled a $69 million lawsuit a few months ago concerning allegations the sunroof could leak on numerous VW and Audi vehicles. Those cars included the 1997-2005 Volkswagen Passat, Jetta, New Beetle, Golf and Touareg, and 1997-2005 Audi A4, A6 and A8 models.