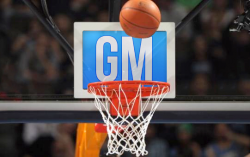 — General Motors is facing what might be the toughest days of their long history as they face investigations, recalls, and lawsuits related to a 10-year delay in recalling cars with a known ignition switch defect. The pain for GM continues today as they recall over 1,500,000 vehicles for air bag and brake problems.
Apparently all of this is happening so fast that GM has no idea when the recalls will begin, and in some cases have no idea how to fix the problems. By this time GM leadership should consider having lunch with Toyota executives on how to handle the negative publicity driving toward GM's front doors.
Air Bag Problems - Buick Enclave / GMC Acadia / Chevrolet Traverse / Saturn Outlook / Chevrolet Express / GMC Savana
The majority of today's recalled vehicles involve air bag problems in the 2008-2013 Buick Enclave and GMC Acadia, 2009-2013 Chevrolet Traverse and the 2008-2010 Saturn Outlook.
The words "air bags" are two words GM does not want to hear right now. It's air bag failures that are getting attention in the ignition switch recalls because 13 front-seat fatalities have been traced to failing air bags. The air bags couldn't deploy because the affected accident vehicles had keys that were not in the "run" position, meaning the air bags were deactivated.
Today's recall affects about 1,176,000 vehicles that have air bags that could fail in a crash, but not due to the ignition switch. GM says the side air bags could fail in a crash because a wiring harness could fail and cause the side air bags to fail on both the driver and passenger side of the seat.
Once the recall starts, GM dealers will replace the affected harness connections with soldered connections.
If you own a 2008-2013 Buick Enclave or GMC Acadia, 2009-2013 Chevrolet Traverse or 2008-2010 Saturn Outlook, contact GM at the following numbers:
For the above models, tell GM you need information about recall number 14030.
Air Bag Cover Problems - Chevy Express / GMC Savana
Another 303,000 model year 2009-2014 Chevrolet Express and GMC Savana vehicles will be recalled for air bag problems, but for a completely different reason than the previous vehicles. In fact, this recall doesn't really involve a failing air bag or an air bag at all, for that matter.
GM says an occupant not wearing a seat belt could be injured in a slow-speed frontal crash, but not because the air bag failed.
According to GM, during a low-speed crash where the air bag would not normally deploy, an unbelted occupant could still be injured when hitting the instrument panel above where the passenger air bag is located.
GM says the panel may not be padded enough to absorb the impact, but they haven't announced how they will fix the problem.
Owners of the 2009-2014 Chevrolet Express and GMC Savana can contact GM at these numbers:
On both vehicles refer to recall number 14082.
Brake Problems / Fire Risk - Cadillac XTS
A GM recall not somehow related to air bags? Yep, at least with 64,000 model year 2013-2014 Cadillac XTS vehicles with brake booster problems. GM says a cavity plug can come loose on the brake booster pump and cause corrosion of the relay connector on the pump.
The corrosion of the brake booster pump connector could melt the connector and possibly cause a fire.
As with the other recalls, GM doesn't know when the Cadillac XTS recall will begin. GM dealers will apply sealant to the connector cavity plugs, re-route the vacuum pump vent hose and replace the front body wiring harness.
Owners can contact Cadillac at 866-982-2339 and refer to recall number 14062.