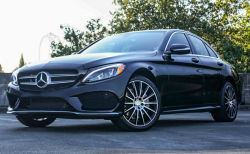 — Mercedes-Benz is recalling at least 39,000 model year 2015 C-Class cars to fix squeaky steering wheels that can be difficult to turn.
Mercedes-Benz first discovered the problem in European C-Class cars that came out of the assembly plant with steering coupling interlocks in the open position. The steering coupling interlock should be in the locked position and with it unlocked the car will be a pain to steer.
Mercedes isn't taking any chances with cars manufactured and sold in the U.S. because the C-Class is the automaker's best-selling model.
Mercedes-Benz says it isn't aware of any accidents or injuries related to the defect.
The 2015 Mercedes-Benz C300 4Matic and C400 4Matic vehicles were manufactured March 28, 2014, to September 18, 2014.
The National Highway Traffic Safety Administration said the recall began on October 1, 2014. Mercedes-Benz dealers will verify the steering coupling interlock mechanism is in the locked position.
Owners may contact Mercedes-Benz customer service at 800-367-6372 and give them recall number 2014090008.