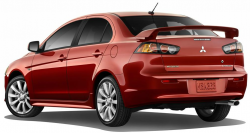 — Mitsubishi is recalling almost 166,000 vehicles to fix drive belts that could detach and cause the engines to stall. Mitsubishi says the recalled vehicles include the 2008-2011 Lancer, Lancer Evolution, and Mitsubishi Outlander; the 2009-2011 Lancer Sportback and the 2011 Mitsubishi Outlander Sport.
Mitsubishi learned of the problem in 2010 after a report of a pulley that was damaged when sand got trapped between the pulley and the canvas drive belt. At that time the only real complaint was noise from the belt. Mitsubishi changed from using canvas belts to rubber belts in an effort to fix the problem.
Additional reports were received about canvas belts detaching and causing the vehicles to stall. The belt is used to power the cooling fan and power-steering pump, but more importantly, the belt turns the alternator. Without the alternator running it won't take long for the battery to drop dead.
Mitsubishi doesn't know when the recall will begin, but the automaker does know that dealers will replace the canvas drive belt with a rubber drive belt. Dealers will also inspect and replace any drive pulley that is worn or damaged.
Owners of the recalled Lancer and Outlander vehicles can contact Mitsubishi customer service at 888-648-7820 and give them recall number SR-14-009.