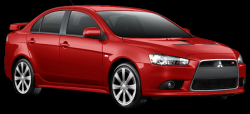 — Less than a month after recalling 920,000 Mitsubishi Lancer and eK series cars for light switch problems, Mitsubishi is recalling the Lancer again, this time because of a fire risk.
The National Highway Traffic Safety Administration says 146 model year 2014 Lancer Evolution and Lancer Ralliart cars are recalled because power steering fluid could leak onto a hot engine or exhaust and cause a fire.
Mitsubishi says the cars might not have enough clearance between the power steering pressure tube and the crossmember brace. A hole could appear in the power steering tube because of abrasion or rust, and leaking power steering fluid means decreased or no power steering. Of course, that would seem minor compared to flames shooting from the car.
Mitsubishi says the recalled 2014 Lancer Evolution was manufactured January 31, 2014, through February 21, 2014. The affected 2014 Lancer Ralliart was manufactured February 3, 2014, through February 14, 2014.
Owners will receive notification this month with instructions to get the cars to a dealer for inspection of the power steering tube. The power steering tube will be replaced if the there isn't enough clearance between the tube and the crossmember brace.
Affected Lancer owners can contact Mitsubishi at 888-648-7820 and reference recall number SR-14-004.
Check out what owners say about their Mitsubishi Lancer cars.