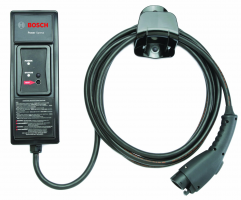 — The National Highway Traffic Safety Administration (NHTSA) has closed its investigation into Bosch Power Xpress 240V chargers after Bosch agreed to conduct a "customer satisfaction campaign" on the chargers.
NHTSA opened the investigation after two complaints of Bosch Power Xpress 240V electric car chargers overheating, specifically one concerning a 2013 Nissan LEAF. According to the owners, the cars started smoking at home after the they had been charging for over an hour. The overheating caused damage to the cars and the chargers to the extent both were inoperable. One owner reported a mild burn while trying to unhook the charger from the car.
Bosch engineers found all the reported failures occurred while charging at 30 amps and were due to high electrical resistance in the metal charging pins. Bosch said a number of factors can cause the electrical resistance, including corrosion or wear on the metal pins, problems with the plating on the pins and even environmental conditions.
NHTSA says although it found no safety-related trend, Bosch will conduct a customer service campaign on all Power Xpress chargers sold.
Customers will be notified in December 2014 that Bosch has redesigned the coupler to include a sensing feature that will cut power to the charger if an overheating condition is detected.
Bosch will provide and install the redesigned coupler with new cables on about 400 customers who currently use the chargers at 30 amps. Bosch will notify the remaining customers and provide a label to stick on the charger advising that if the charger is to be used at 30 amps, a cable and coupler upgrade is recommended.
Additionally, those customers can request the new coupler and cables free of charge for six months after program launch, however, the customer will be responsible for having the cord installed.
With questions, contact Bosch at 888-715-3616.