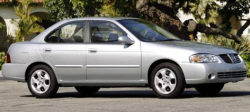 — Chalk up more motorized victims of air bag maker Takata after Nissan announced a recall of 226,000 vehicles, adding to the 480,000 recalled over a year ago.
This newest recall involves model year 2002-2003 Nissan Maxima, Pathfinder and Infiniti I35 and QX4; 2002-2004 Nissan Sentra and 2003 Infiniti FX vehicles. As with the previous recall, the air bags have bad inflators that can explode when the air bags deploy in a crash.
The defective Takata air bags have caused the recalls of many popular cars from numerous automakers including: Mitsubishi, Honda, Toyota, Subaru, Mazda, Ford and BMW.
The story has always been the same. The inflator is a metal canister located inside the air bag and the force of deployment can send shrapnel flying into occupants. Literally. The Nissan vehicles have passenger frontal air bags that need to be replaced, including if they have already been replaced after a previous air bag deployment.
The recall is expected to begin in mid-August 2014. Nissan dealers will inspect the vehicles for defective air bag inflators and replace the inflators, if needed.
Affected owners can contact Nissan customer service at 800-647-7261.
Read owner-reported complaints and reviews about the Nissan and Infiniti vehicles named in the recall.