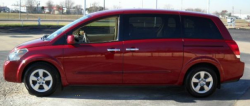 — The National Highway Traffic Safety Administration (NHTSA) has opened an investigation into almost 38,000 model year 2007 Nissan Quest minivans after complaints about inaccurate gas gauge readings.
The gauge can be so far off that a driver is left on the road still thinking another 60-80 miles of gas is left in the tank. NHTSA says a trend might be occurring because all the complaints were submitted within the past 14 months.
A North Carolina driver said it's happened to her twice, once with her grandchildren in the van.
"Driving along in peak traffic and suddenly vehicle shuts off. No power steering and almost involved in accidents both occasions the first time I was alone the second time I had my grand babies with me and that was terrifying for them as the other road users were whizzing past..."
The driver said she looked at the gas gauge the first time and it displayed another 80 miles to empty. The second time the gauge said the Quest still had enough gas for another 60 miles. The driver had no warning because the low fuel light didn't illuminate.
The investigation into the 2007 Nissan Quest is called a preliminary evaluation, the first step to an engineering analysis or a recall, that is, if a defect is found by investigators.
UPDATE: In January 2015, Nissan agreed to make repairs to the Nissan Quest vans.