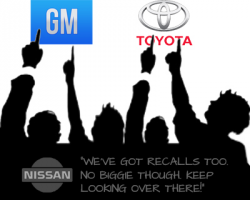 — While everyone focuses on massive recalls from Toyota and General Motors, automaker Nissan has been slipping some of their own huge recalls into the mix.
In May, 2013, Nissan recalled 800,000 cars because the steering wheel could literally fall off. Then in September, Nissan recalled another 909,000 cars because they could die in the middle of the road.
Nissan has now announced a recall of 1 million vehicles because the passenger air bag could fail in a crash.
According to the National Highway Traffic Safety Administration, the recalled vehicles include the following:
The occupant classification system is supposed to tell the computer if an adult is in the passenger seat. If the system does not detect an adult occupant in the seat, the passenger air bag would be deactivated. Nissan says software in the system can malfunction and cause the system to read the seat is empty, even though a passenger is in the seat.
Nissan says a combination of factors could cause the problem, such as high engine vibration at idle when the seat is initially empty and then becomes occupied. Even the posture of the passenger could cause the air bag to deactivate.
This is the second recall in a year for the exact same air bag problems in the affected vehicles. In March, 2013, Nissan recalled 82,000 model year 2013 Altima, LEAF, Pathfinder, Sentra, and Infiniti JX35 vehicles because of problems with the occupant classification system. Nissan now admits the remedy used in that recall didn't fix all the problems.
Nissan has been haunted by air bag problems that caused previous recalls, including a recall of model year 2014 Nissan Pathfinders. In that October, 2013, recall, Nissan said the instrument panel tear seam on the passenger frontal air bag wasn't cut correctly on the back side of the instrument panel. That could cause the air bag to partially inflate or completely fail to inflate in a crash.
Further, in April, 2013, Nissan recalled 480,000 model year 2001-2003 Maxima, Sentra, Pathfinder, Infiniti I35 and Infiniti QX4 vehicles because of dangerous air bags. Nissan said shards of metal could fly from the air bags in the event of a crash, a problem blamed on Takata, a Japanese company that makes the explosive wafers used in air bags.
In today's recall of 1 million cars and SUVs, Nissan dealers will need to update the occupant classification system software. The recall should begin by the middle of April, 2014.
Owners may contact Nissan at 800-647-7261.