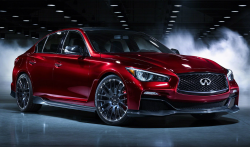 — Nissan is recalling almost 59,000 Nissan and Infiniti vehicles to fix more exploding air bags and to repair a condition that can cause hybrid cars to accelerate unexpectedly.
Nissan Pathfinder, Sentra, Infiniti FX35, FX45, I35, M35, M45
Over 52,000 vehicles will be called back to repair passenger frontal air bags that can explode when the air bags deploy. About 1,800 Infiniti vehicles were recalled just days ago for the same metal inflators that can rupture and send shards of metal into flesh.
The newest air bag recall includes the 2003-2004 Nissan Pathfinder, 2004-2006 Nissan Sentra, 2003-2005 Infiniti FX35 and FX45, 2003-2004 Infiniti I35, and 2006 Infiniti M35 and M45.
Nissan says the recalled vehicles were originally sold, or currently registered, in Puerto Rico, Hawaii, the U.S. Virgin Islands, Guam, Saipan, American Samoa, Florida and adjacent counties in southern Georgia, as well as the coastal areas of Alabama, Louisiana, Mississippi and Texas.
Those areas commonly have high absolute humidity that can cause moisture to create problems inside the air bags.
Nissan and Infiniti have not released a schedule of when the air bag recall will begin. Dealers will replace the passenger air bag inflator, but until then, owners can contact Nissan customer service at 800-647-7261.
Infiniti M35, Q50, Q70
Over 6,500 Infiniti hybrid cars have problems that can cause them to accelerate unexpectedly because of a series of software problems. The recalled cars are the 2013-2014 Infiniti M35, 2014 Infiniti Q50 and the 2014-2015 Infiniti Q70, all hybrid cars that can lose the signal from one of two throttle position sensors.
Infiniti says the lost signal can cause the engine control module to go into fail-safe mode and partially close the throttle chamber. However, the throttle chamber can open if the signal returns, causing the car to accelerate without the driver expecting that to happen.
Infiniti says the recalled Infiniti M35 hybrids were manufactured April 7, 2012, to September 9, 2013, the 2014 Infiniti Q50 vehicles were manufactured December 10, 2012, to July 15, 2014, and the 2014-2015 Infiniti Q70 hybrid cars were manufactured April 9, 2010, to May 7, 2014.
Owners should watch for recall notices in the mail this month. Infiniti dealers will reprogram the engine control module to keep you from losing control from a lack of throttle control.
With any questions, contact Nissan customer service at 800-647-7261.
Read what owners say about the vehicles listed in the recalls: