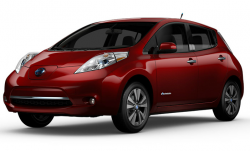 — Nissan has issued two orders affecting over 104,000 cars, one involving an official recall and one Nissan says isn't a recall but is something the automaker calls a "voluntary service campaign."
2014 Nissan LEAF
Nissan is recalling 211 model year 2014 LEAF electric cars that could have structural problems. Nissan told the National Highway Traffic Safety Administration the front structural member assembly may be missing welds that could weaken the car in a crash. (See how dealers will identify the problem)
Nissan discovered the missing welds in March, 2014, during a routine quality inspection. The automaker opened an internal investigation and researched what could happen in a crash if the welds weren't correct. Not only did the missing welds cause a weakened structure, but Nissan was in violation of two federal safety regulations.
The recall should begin by mid-June, 2014. It's a good thing for Nissan that only 211 cars are possibly affected because any car with missing welds will need to be replaced. Nissan dealers will make that determination when they inspect the cars.
2011-2013 Nissan JUKE
Over 104,000 model year 2011-2013 Nissan JUKE subcompacts need their timing chains replaced. Nissan isn't calling this a "recall" because the problem allegedly isn't considered a safety defect, yet.
Nissan believes they caught the problem before the timing chain could become a safety hazard. However, a loose timing chain could cause major problems and complete engine failure if the chain comes off. Although the process isn't technically a recall, every affected JUKE will need a new chain guide, crank sprocket and timing chain.
Nissan JUKE owners should watch for a letter from the automaker.
With questions or comments about the LEAF or JUKE, call Nissan at 800-647-7261.