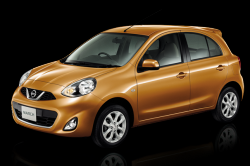 — Days after Nissan recalled its Frontier and NV vehicles for seat belt problems, the automaker has announced the recall of 55,000 cars in Japan and a "service campaign" that will be performed on another 126,000 vehicles. Nissan hasn't released much information about the actions.
Nissan Micra / Sunny
About 126,000 Nissan Micra and Sunny cars have problems with the rear brake drums. The automaker says a "service campaign" is in place to fix the cars that have a spring in the rear brake drum that can break. A busted spring in the brake drum can cause all kinds of loud noises from the brakes.
Although Nissan didn't say what model year cars would be repaired, CarComplaints.com has heard from owners of the 2012 Nissan Sunny about loud noises coming from the brakes.
"Requested the Service agent to replace the brakes but in reply he said, that its made in India and becasue of Travelling by sea rust might come up, but recomended to clean. Still the problem is there." - Dubai, United Arab Emirates
"While applying breaks, sometime loud sound ( like drum sound) coming and feeling totall uncomfortable about break quality." - Ghaziabad, Uttar Pradesh, India
"I am having a problem with the brakes of my Nissan Sunny bought only in Dec 2012. while breaking at high speeds, a loud noise is erupting as if the brake pads are rubbing against the disc. a couple of times, the technician had cleaned it but still the noise is not stopping." - Vijayawada, Andhra Pradesh, India
Nissan says it is unaware of any accidents caused by the brake drum defect, but all 126,000 cars will need the springs replaced in the rear brake drums.
Nissan March
About 55,000 Nissan March compact cars are recalled because of problems with the engine starter motors. Nissan didn't say which model years are affected, other than to say the cars were manufactured February 2010 through July 2013.
A problem with a harness in the starter motor could cause the harness to overheat and make the engine next to impossible to start. Nissan will replace the starter motor in all 55,000 cars.