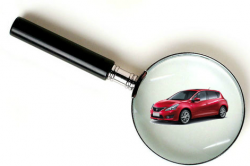 — Over the years there have been numerous investigations and recalls related to unintended acceleration, especially concerning floor mats that can interfere with the gas pedal. The National Highway Traffic Safety Administration (NHTSA) has opened another investigation concerning gas pedals that allegedly get stuck, but this time it doesn't involve floor mats or sticky gas pedals.
NHTSA has received four complaints from the U.S. that claim a simple piece of plastic trim can cause serious problems in model year 2012-2014 Nissan Versa, Versa Sedan and Versa Note vehicles.
Nissan Versa owners say the plastic trim that covers the front tunnel carpet can trap the edge of a driver's shoe while their foot is on the gas pedal.
The plastic trim is located next to the gas pedal and can not only cause a delay in releasing the gas pedal, but can also cause a delay in applying the brake pedal.
One complainant alleges their foot was trapped by the trim panel and the driver had to quickly use their right hand to grab their leg and pull up to get their foot free. The problem was made worse because the driver was wearing work boots.
Another driver said they tried to move their foot from the gas pedal to apply the brake, but their shoe was caught by the trim panel.
NHTSA said it knows of a fifth complaint but it won't be included in the investigation because the car is located outside the U.S.
The investigation will determine if 360,000 Nissan Versa, Versa Sedan and Versa Notes should be recalled.