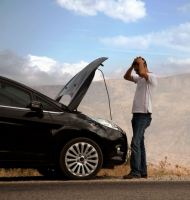 — How much junk mail do you throw out every month? It's a daily occurrence for most of us and it's likely we sometimes throw things away we should keep. Maybe even read.
The National Highway Traffic Safety Administration (NHTSA) says it doesn't do much good to mail a recall notice that is mistaken for junk mail, so starting February 18, 2014, NHTSA will require a change of the recall label used on mailed notices.
Beginning the 18th, all manufacturers must use a distinctive label (pictured below) on vehicle and equipment recall notices.
NHTSA says only recalling manufacturers can use the label. This will help prevent confusion about official recalls and junk mail such as sales or marketing materials. Materials considered misleading or "inappropriate" will be on the radar of NHTSA and the Federal Trade Commission.
"Recalls only work if consumers are aware of them," said U.S. Transportation Secretary Anthony Foxx. "This new label will allow consumers to quickly recognize recall notices mailed to their homes so they can act quickly to get their vehicles, child restraints, tires, or other motor vehicle equipment fixed."
Click here to read the most recent vehicle recalls.