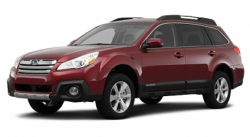 — A class-action lawsuit against Subaru claims some of its most popular models burn oil at an expensive and excessive rate. The lawsuit, filed in a New Jersey federal court, alleges the cars are defective because the piston rings wear out early and can cause engine failure while on the road.
The class-action lawsuit names the cars as the:
The lawsuit says Subaru knows about the issue because it issued four technical service bulletins to dealers about excessive oil consumption. Subaru dealers were told to replace the piston rings for any customer complaining about burning through oil. However, a service bulletin isn't a recall and unless the problem is covered under warranty, the owner must pay for repairs.
According to the lawsuit, it can cost $8,000 to replace the piston rings because the entire engine must be pulled from the car. Additionally, customers complain replacing the piston rings does nothing to decrease oil consumption.
Lead plaintiffs Keith Yaeger and Michael Schuler say their Subaru cars burn through a quart of oil every 2500-3000 miles. Oil must be added between the recommended oil change intervals to protect against engine failure.
The plaintiffs claim Subaru concealed the alleged defect because admitting there is a defect would hurt the value of the cars. Further, plaintiffs allege the defect is a safety hazard because the engine could fail at any time and at any speed while driving.
Owners of the 2014 Subaru Forester have complained to CarComplaints.com about the very same excessive oil consumption problems.
"In the middle of an oil consumption test with Subaru. As background, this is my fourth Subaru, second Forester. I was never informed during the sale of this new car that Subaru expects their cars to consume oil. Never heard of that on a new car, and wouldn't buy the car if I had known." - James F., Houston, TX
"I check the oil in my garage twice a week. I always try to keep the oil level on full. It is using 1 to 2 quarts of oil every 5000 miles. Oil consumption is worse on trips. At services I complain to dealer, they always say this is normal oil consumption." - John M., Charles Town, WV
"We bought the 2014 forester March 2013. manual transmission and at 3000 miles oil light came on. oil was 1 quart low. been back to dealership 3 times and oil varies greatly on amount used. the last trip in it used 1 quart in 1400 miles." - Jack B., Bloomfield, New York
To learn more about the Subaru oil consumption class-action lawsuit, contact Chimicles & Tikellis LLP.