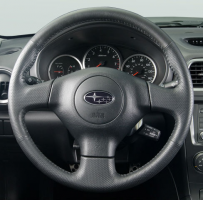 — Another automaker has been bitten by the Takata exploding air bags bug as Subaru announced it will recall 8,500 model year 2003-2004 Legacy, Outback, Baja, and certain 2004 Impreza (including WRX/STI) vehicles.
The same problem also caused recalls by Honda, BMW, Mazda, Ford and Toyota, all which have the same faulty air bag inflators. Those inflators are metal and can rupture when the air bags deploy, sending shrapnel flying all over the inside of the cars.
Subaru breaks down the numbers as 3,151 Legacy, Outback, and Baja vehicles and 5,406 Impreza and Impreza WRX/STI cars. Although other automakers ordered regional recalls based on areas with high humidity, Subaru says the air bag recall covers all vehicles sold in the United States. (See update below)
The defective air bag is located on the front passenger side and is the only air bag affected in the vehicles, so dealers will completely replace that air bag during the recall. However, the National Highway Traffic Safety Administration hasn't released information about when the recall will begin.
Owners can contact Subaru at 800-782-2783 and ask about internal recall number WQL-48.
Subaru has been busy dealing with recalls over the past week as the automaker said about 660,000 cars need their brake lines repaired. That recall involves model year 2005-2009 Outback and Legacy, 2008-2011 Impreza, 2008-2014 Impreza WRX/STI, and 2009-2013 Forester cars.
Update - August 5, 2014: Subaru is recalling an undetermined number of 2003-2005 Subaru Legacy, Outback, and Baja vehicles, as well as 2004-2005 Subaru Impreza (including WRX/STI) vehicles. The recall applies to vehicles registered in Florida, Puerto Rico, Hawaii and the U.S. Virgin Islands.
Click a Subaru model below to read complaints about the cars named in the Takata air bag recall: