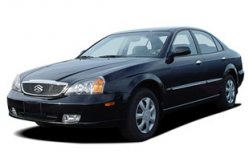 — Suzuki is recalling almost 26,000 model year 2004-2006 Verona cars because a fire could occur in the instrument panel. Just two months ago Suzuki recalled 184,000 model year 2004-2008 Forenza and 2005-2008 Reno vehicles for the same problem.
Suzuki engineers found the Verona cars were manufactured from June 2003, to October 2005, and have a daytime running lights (DRL) module that can overheat and catch fire.
Suzuki says a metal oxide transistor within the DRL module can fail and cause the heat protection circuit and heat sinking capability to fail to protect the module.
Suzuki doesn't know when the recall will begin, so watch for smoke or flames coming from your Verona instrument panel.
With questions or comments, call Suzuki at 800-934-0934 and refer to recall number XC.