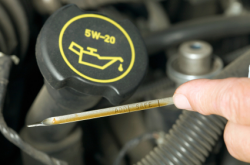 — A Toyota oil consumption lawsuit has been filed on behalf of consumers in California, Florida, Washington, New York and New Jersey.
The plaintiffs, represented by Richard D. McCune, Jr. of McCuneWright LLP, claim Toyota knew certain vehicles equipped with 2AZ-FE engines have a defect that causes oil consumption at a rapid rate.
The Toyota vehicles cited in the lawsuit include the following:
The consumer fraud lawsuit alleges Toyota told dealers about the problem in 2011 but refused to pay to fix the vehicles when contacted by owners. Additionally, the plaintiffs allege Toyota knew the engines would start guzzling oil as the vehicles neared the end of the warranty.
Toyota certainly knows of the issue because in February the law firm of Chimicles & Tikellis LLP opened an investigation into a potential class-action lawsuit for the same alleged problems.
Chimicles & Tikellis are representing plaintiffs after finding Toyota changed the piston assembly and provided mechanics with updated repair procedures.
CarComplaints.com has heard from many Toyota owners who have complained about the problem for years. For a small example, check out some of the complaints about Toyota oil consumption in the 2007 Camry.