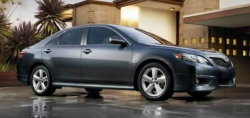 — Toyota is recalling over 360,000 vehicles worldwide to fix steering, seat belt and fuel line problems. However, Toyota said only a limited number of cars are located in the U.S.
Toyota Camry
About 170,000 model year 2011 Toyota Camrys have lower ball joints that can separate and cause the cars to go out of control. The automaker says the rubber boot on the ball joint might be damaged and could cause grease to leak from the boot.
The Camry front suspension has a lower ball joint that connects the front suspension lower arm to the knuckle arm. Toyota says the ball joint could separate from the knuckle arm because of the leaking grease.
The automaker says only 56 Camrys are in the U.S., specifically in the U.S. Territories of Guam and Saipan.
While a separated ball joint could cause serious problems on the road, Toyota says it's unaware of any crashes, injuries or fatalities linked to the defect.
Toyota dealers will inspect the rubber boots on the recalled 2011 Camrys and if needed, the ball joint will be replaced.
Toyota Crown, Crown Majesta, Dyna, Hiace, Regius Ace
Toyota didn't provide much information about the other recalls because the vehicles are located primarily in Japan. The automaker said about 105,000 Dyna, Hiace and Regius Ace vehicles need the fuel pipes replaced.
A third recall will see 86,000 Crown and Crown Majesta cars called back to fix the seat belt assemblies.
CarComplaints.com has complaints about some of the cars named in the recalls, including the: