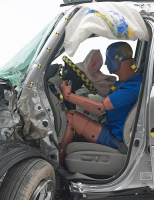 — If there is one crash test most automakers dread it's the small overlap test performed by the Insurance Institute for Highway Safety (IIHS,) a nonprofit auto safety organization funded by insurance companies.
The test is considered more stringent than head-on crash tests performed by the National Highway Traffic Safety Administration and more difficult than other IIHS tests.
The test is important because it replicates something that happens in many real-world accidents. In the test, 25 percent of a vehicle's front end hits another vehicle or an object such as a tree or utility pole at 40 mph. A crash like this can easily collapse the occupant area and cause serious injuries.
Previous small overlap testing has made popular cars look bad, including the Toyota Rav4, Camry and Prius v.
In testing earlier this year, 10 out of 11 minicars flunked the test.
The latest casualties include the 2014 Honda Pilot, Mazda CX-9 and Ford Explorer, all midsize SUVs that tested poorly.
2014 Worst Performers
Honda Pilot: IIHS says the worst of the bunch was the Honda Pilot. The parking brake pedal moved an incredible 16.5 inches inward, the steering column moved 5.5 inches to the right, and the driver's space was filled with the structure of the vehicle. Additionally, the dummy's head barely touched the air bag before sliding off the left side. (See photo above)
Mazda CX-9: The left front wheel came even with the dummy's knee because the hinge pillar pushed in a whopping 17 inches. The side air bag didn't deploy at all, and the door frame ended up so far inside the occupant compartment the dummy's head struck it after sliding off the frontal air bag.
Ford Explorer: The door hinge pillar was nearly severed from the door sill.
2014 Best Performers
Two midsize SUVs scored well in all components of the small overlap test — structure, restraints and kinematics, and injury measures for four body regions. This is good news for General Motors, which has been taking a beating over its failure to recall millions of cars with a known defect.
Chevy Equinox and GMC Terrain: The Equinox and Terrain are twins, so IIHS used the Equinox for the test, and it did well. The dummy's head hit the frontal air bag and stayed there, and the driver space was well-maintained. The Institute said it would have been a perfect test performance if the side curtain air bag had provided more forward coverage.
The Equinox and the Terrain earned the Institute's highest award for 2014, TOP SAFETY PICK+. The Toyota Highlander, a midsize SUV whose acceptable small overlap rating was announced in December, also qualifies. The award is given to vehicles with a good or acceptable small overlap rating, good ratings in four other occupant protection tests, and a rating of basic or higher for front crash prevention.