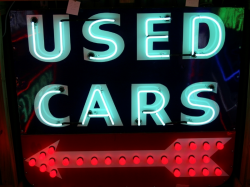 — Over 500 used-car dealers are plaintiffs in a class-action lawsuit accusing CARFAX of violating federal antitrust laws. CARFAX provides vehicle history reports to car dealers and consumers who want more background information on a vehicle before purchasing the car.
The Claims
The used car dealers are suing CARFAX for $50 million in damages, alleging:
CARFAX blocks used-car dealers from using any other provider of vehicle reports.
CARFAX blocks competition by having exclusive agreements with Cars.com and AutoTrader.com, two of the biggest websites for advertising used cars. Only the CARFAX logo appears on used-car listings on those sites, but according to the lawsuit, other providers of car history reports have more reliable (and cheaper) reports.
The suit alleges dealers participating in 37 of 40 automaker "certified pre-owned" programs are required to purchase CARFAX reports for each car they sell because of agreements between CARFAX and automakers. That, allegedly, leaves the competition out in the cold.
To add fuel to the fire, the plaintiffs' point out that CARFAX reports aren't always accurate. CARFAX and similar services rely heavily on information from the National Motor Vehicle Title Information System, a database of insurance claims from 89% of states. That means vehicle information from certain regions can be left out of reports. Making matters worse, if a car is damaged in an accident but not reported to insurance, that information will likely not show up on the report.
The lawsuit was filed in U.S. District Court in Manhattan, NY, by Bellavia Blatt Andron & Crossett, P.C. According to their agency dozens more used car dealers have submitted the paperwork to join the suit.