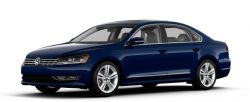 — Volkswagen today announced a recall of 150,000 Passat cars while ordering dealers to stop selling additional cars related to a separate problem.
The 150,000 cars recalled are model year 2012-2013 Passat vehicles with low-beam headlights that can fail. VW says the low-beam bulb can simply come loose from its connection.
The affected Passat cars were manufactured January, 2011, through November, 2012.
The National Highway Traffic Safety Administration says the Passat recall will begin in May, 2014. VW dealers will replace the bulb holder to hold the low-beam bulb securely.
Owners can contact Volkswagen at 800-822-8987 and refer to recall number 94G8/7V.
Volkswagen Stop-Sale Order
There's no doubt every executive sitting in the offices of every automaker is questioning how paranoid to be with ordering recalls or defining what a "safety defect" is. The grilling General Motors is taking for its failure to wait 10 years to recall cars with a known defect should make every automaker nervous.
So it's maybe not a surprise to see Volkswagen order its U.S. dealers to stop selling about 25,000 cars that could be at risk of transmission leaks.
VW dealers have been told to stop selling the 2014 Jetta, Beetle, Beetle Convertible and Passat equipped with a 1.8-liter engine. Those cars with an automatic transmission have a defective O-ring that connects to the automatic transmission cooler.
The defect can cause transmission fluid to leak and the only way to fix it will be to replace the faulty O-ring.
Volkswagen said they will inform the National Highway Traffic Safety Administration about the problem and release more information to the public when available.