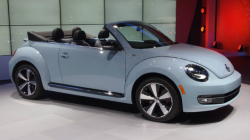 — Volkswagen recently ordered dealers to stop selling the 2014 Jetta, Beetle, Beetle Convertible, and Passat, and now we know why. VW is recalling over 26,000 of those cars equipped with a 1.8T engine and torque converter automatic transmission.
According to the National Highway Traffic Safety Administration, the O-ring seals in the recalled cars can leak between the oil cooler and transmission. It might not sound like much of a safety issue, but transmission fluid on a hot surface could cause the cars to catch fire. Additionally, VW says all the affected cars have the defect.
To its credit, Volkswagen took quick action once the problem was discovered. The O-ring defect was first noticed on March 14, 2014, followed by an internal investigation, the stop-sale order, and now the recall. Volkswagen is not aware of any fires, injuries, or accidents related to the defective O-ring.
Owners of the 2014 Jetta, Beetle, Beetle Convertible, and Passat should see official notice from VW in a few days. VW dealers will replace the O-ring seals in the transmission oil cooler to keep the fluid where it should be.
Owners can contact Volkswagen at 800-822-8987 and refer to recall number 38B9/9V.