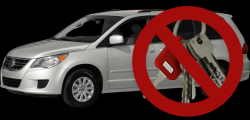 — Volkswagen is recalling 18,500 minivans for defective ignition switches, three years after recalling the same model for the same problems. VW says the 2009 Routan should only be driven with the single key in the ignition, meaning owners should remove all items from the key. That goes for removing the key fob along with any key rings.
In March 2011, VW recalled the 2010 Routan for the same problem. That problem is an ignition switch that can move out of the "run" position and kill the engine while driving. A simple bump in the road or a bump of the knee can turn off the minivan. Important functions of the minivan will be lost, including the power brakes, power steering and the ability for the air bags to deploy.
VW says any model year 2010 Routans that weren't repaired from the 2011 recall will need to be repaired. The automaker estimates about 31,000 minivans in total will need to be fixed.
The recall is expected to begin in August 2014. VW dealers will modify the ignition switch, although the automaker didn't saw how the repairs will be made.
Owners of the 2009-2010 VW Routan can contact Volkswagen customer service at 800-822-8987 and give them recall number 28G1/U8.