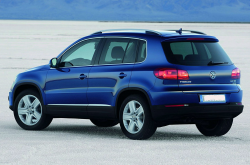 — Volkswagen is recalling 151,000 model year 2009-2014 Tiguan compact SUVs for bubble problems. VW says it's possible gas bubbles could form in the fuel system when winterized fuel with high vapor pressures is used in warmer areas or in months with higher temperatures.
Gas bubbles could also occur when the Tiguan is restarted within a short amount of time after shutting off a hot engine.
Additionally, the fuel pump could experience pressure problems because of a degraded electrical current due to deposits in the in-tank fuel pump. The failing fuel pump can cause engine stall or a problem starting the engine after it's shut off.
The VW Tiguan recall should begin on or before August 19, 2014. VW dealers will update the software to increase the fuel pump pressure.
Owners can contact Volkswagen customer service at 800-822-8987 and give them recall number 24AV/2W.
Volkswagen hasn't had a great past few weeks, as the automaker on August 7 recalled 18,500 minivans for defective ignition switches, and on July 24 recalled the model year 2015 Golf and GTI for steering problems.