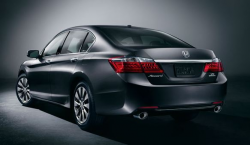 — The National Highway Traffic Safety Administration (NHTSA) has closed its investigation into alleged electric power steering problems in 374,000 model year 2013 Honda Accords.
The investigation was opened after Honda Accord owners filed 24 complaints with NHTSA about a complete loss of electric power steering while driving. Another 235 Accord power steering complaints were filed directly with Honda. In addition, at least two crashes were attributed to electric power steering failures.
After the investigation was announced, another 33 complaints were filed with NHTSA, many of those complaints indicating problems with the torque sensors. NHTSA said technicians were able to identify the bad component when every test showed the diagnostic trouble code, DTC 53.
Honda responded to the investigation by providing two conditions that may have affected early-made torque sensors, but based on warranty claims, Honda said a small number of sensors were affected and the problem was fixed by the supplier early in production.
In addition, warranty data allegedly indicates the sensor problems occurred early and most of the affected sensors have already failed. NHTSA says only two minor crashes have been identified related to the torque sensor failures, although no injuries were sustained.
"I was starting to drive after paying a toll on a bridge, when the car started jerking and the power steering went out. I could not control the car. Car turned 45 degrees and was hit by a peterbuilt truck. There was $7000 worth of damage to the car. Honda says there is nothing wrong with the car" - 2013 Honda Accord owner / East Brunswick, New Jersey
Another 2013 Honda Accord owner said the only thing they got from their power steering was a big bill.
"I started my engine and was backing up my car, when I noticed I couldn't turn the steering wheel. The steering wheel was almost impossible to turn. The car was towed to the Honda dealership and they gave me a bill of $1800 to work on the power steering to torque sensor and the pins and rack? I'm terrified that this will occur again, but when I am driving resulting in an accident." - 2013 Honda Accord owner / Lakeland, Florida
NHTSA says it is closing the Accord steering investigation because the low failure rate and declining trend indicates failures are rare. And in its legal role to cover its tail just in case a defect does exist, NHTSA says the following:
"The closing of this preliminary evaluation does not constitute a determination that no defect exists or that power steering failures do not present an unreasonable risk to safety." - NHTSA
Read complaints about steering problems in the 2013 Honda Accord.