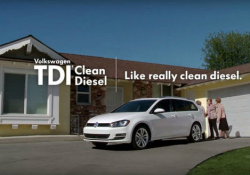 — The Volkswagen emissions scandal has opened Pandora's Box in Germany as safety regulators announced they are investigating numerous models from VW and at least 19 other automakers.
German authorities said they want to know if any of the vehicles are emitting illegal nitrogen oxides, the type of emissions that started the Volkswagen chaos. Regulators said vehicles with diesel engines are the focus of the investigation, but authorities didn't specify which model years are under investigation.
Third-party tests have indicated possible nitrogen oxide emission problems in the following models:
Audi
BMW
BMW 3 Series and 5 Series
Daimler
Fiat Chrysler
Alfa Romeo Giulietta
FIAT Panda
FIAT Ducato
Jeep Cherokee
Ford
General Motors (Opel)
Opel Astra
Opel Insignia
Opel Zafira
General Motors
Honda
Hyundai
Jaguar Land Rover
Mazda
Mercedes-Benz
Mercedes-Benz C-Class
Mercedes-Benz CLS
Mercedes-Benz Sprinter
Mercedes-Benz V-Class
Mitsubishi
Nissan
Peugeot
Porsche
Renault
Renault Dacia
Renault Kadjar
Toyota
Volvo
Volkswagen
VW Golf / Golf Sportsvan
VW Beetle
VW Passat
VW Touran
VW Touareg
VW Polo
VW Crafter
VW Amarok
Separately German authorities are investigating employees at Audi who were involved with providing the results from emissions tests. German prosecutors said they received information from third parties as well as directly from Audi.
German authorities further say about 540,000 Volkswagen cars with 1.6-liter engines will need both software and hardware changes, both which could cause a change of emissions and fuel economy.
Volkswagen Emission Systems May Be Legal in Europe
Considering most of the diesel cars with defeat devices are located outside the U.S., much of the action has taken place in Europe. However, VW is looking at the possibility that defeat software may be deemed legal in Europe based on European testing regulations.
Current rules allow an automaker to alter the settings of engines before an emissions test, using a setting that wouldn't normally be used during routine driving. This in essence could render official tests useless and provide specific emissions results the automaker wants authorities to see.
Although defeat devices are illegal in Europe, Volkswagen says special software that alters emissions readings might not legally be called a "defeat device." With millions of cars and billions of dollars on the line, VW could turn the entire circus into a legal battle over the meaning of "defeat device."