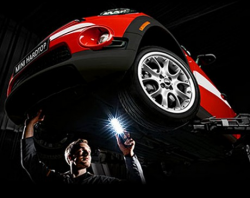 — Owners of MINI vehicles can expect things to change concerning repairs made under warranty. BMW of North America has agreed to settle charges brought against its MINI division by the Federal Trade Commission after the FTC said it had "reason to believe" MINI was breaking the law.
The FTC accused MINI of violating the 1975 Magnuson-Moss Warranty Act by wrongly telling MINI owners the warranty would be void unless MINI parts were used and MINI dealers performed all repair work.
Every automaker knows about the Warranty Act, but MINI apparently didn't care much for the rules that must be followed to stay out of trouble. One purpose of the Act is to prevent companies from forcing consumers to use specific brands of parts or specific service shops, unless the part or service is provided for free.
This means MINI has no right to refuse to honor its warranty just because someone else performed the repairs or the maintenance work. For breaking the law, MINI will change its business practices and inform buyers and owners the only time the work must be performed by MINI is if the "representation is true and BMW can substantiate it with reliable scientific evidence."
Furthermore, MINI owners must be informed about their right to use third-party parts and services without voiding the warranty, unless MINI provides the parts and services for free.
The MINI agreement with the FTC will be subject to public comment until April 20, 2015, after which the FTC will decide whether to issue the order on a final basis.
To add your 2 cents to the story and make your voice heard, you can submit written comments here.