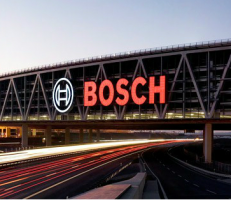 — The Robert Bosch company is named as a defendant in a Volkswagen emissions class-action lawsuit that names VW, Bosch, former VW CEO Martin Winterkorn and current CEO Michael Horn as defendants.
The Bosch/Volkswagen class-action lawsuit alleges violations of the Racketeer Influenced and Corrupt Organizations (RICO) Act, false advertising and consumer fraud.
Plaintiff Robert F. Eslick purchased a 2013 Passat TDI SEL Premium on or about February 20, 2013. Eslick said he had been a loyal Mercedes-Benz customer for decades but decided to purchase a Volkswagen diesel vehicle.
That decision was based on Volkswagen's advertisements about high mileage, good fuel economy and the vehicle being good for the environment.
The lawsuit says the plaintiff felt "shocked and violated" when he found out about Volkswagen's failures and is worried he won't be able to sell the car at all. Even if the car can be sold, Eslick says he will have to sell it for less money than if VW hadn't cheated.
The Robert Bosch company has been drawn into the mess because of supplying parts for the VW diesel engines. According to the lawsuit, VW's scheme was aided and abetted by Bosch because the company created the software used in the defeat device.
The plaintiff claims that as early as 2007, Bosch warned VW about using the software in vehicles that would be driven and that doing so would be a criminal offense. However, Bosch still sold or licensed 11 million of the device components over a period of seven years knowing that Volkswagen was using them in vehicles on the roads.
The lawsuit blasts Volkswagen for allegedly scheming $33 billion in profits from selling diesel cars with defeat devices over the last seven years, all caused by a marketing campaign based on fraud.
According to the plaintiff, Bosch should have refused to sell the parts to VW but instead decided to profit from the automaker's fraud. Calling Bosch a RICO co-conspirator with Volkswagen, the plaintiff says Bosch is jointly liable for triple the damages.
The Bosch lawsuit was filed in the U.S. District Court of Michigan Eastern District - Robert F. Eslick et. al. v. Volkswagen Group of America, Inc., Volkswagen AG, Martin Winterkorn, Michael Horn and Robert Bosch.
The plaintiff is represented by Wolf Haldenstein Adler Freeman & Herz, LLP, and Rossman Law, P.C.