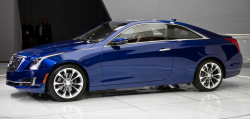 — General Motors is recalling over 2,163 model year 2015 Cadillac ATS and CTS cars that can lose the ability to brake. The defect was traced to a bracket between the brake pedal assembly and the rod that controls the brakes.
GM was testing a car when the vehicle lost its brakes, other than the emergency brakes. An investigation determined a machine used by the supplier experienced a mechanical failure.
If the bracket breaks and the brake pedal is used, the driver will quickly find they have no brakes. The only hope of stopping the moving vehicle is to hit something, or use the emergency brake.
The recall is scheduled to begin August 1, 2015. GM dealers will inspect the bracket for fracture or a condition that makes the bracket susceptible to fracture when the brake pedal is pushed. If a fracture is found, the brake pedal (including the affected bracket) will be replaced.
Owners of the recalled 2015 Cadillac ATS and CTS may contact Cadillac customer service at 800-458-8006. GM's number for this recall is 15352.