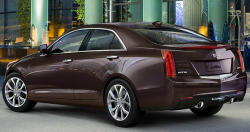 — General Motors is recalling another 83,000 Cadillac ATS sedans to fix power sunroof problems that caused GM to recall 67,000 of the same cars in February 2015.
It's another example of an automaker recalling cars, making repairs to the cars and complaints keep coming in although the cars were repaired. Once that occurs, a recall of a recall is ordered, which brings us to the Cadillac ATS recall.
GM says the 2013-2016 ATS can experience problems with the switch that operates the sunroof system. As in the previous recall, the switch isn't recessed all the way into the roof panel and can easily be touched and cause the sunroof to close. This can be a serious problem if something (or someone) is sticking out of the sunroof and it closes when the operator doesn't want it to close.
However, the automaker is unaware of any accidents or injuries caused by the sunroof switch.
The February recall included the 2013-2015 Cadillac ATS, but GM has added the 2016 model year to this recall, which supersedes the February recall.
About 63,600 of the cars are in the U.S. and 18,900 are recalled in Canada and other areas.
GM dealers will replace the roof console switch trim plate, but the automaker hasn't said when that will occur. You will need to get your Cadillac back to a dealer even if the car was repaired during the previous recall.