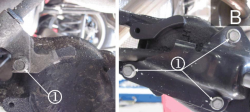 — General Motors is recalling over 1,700 model year 2015 Chevy Cruze cars to repair problems that could cause the parking brake to fail.
GM says the Chevrolet Cruze has rear parking brake cable brackets that might be loose because of problems at the factory. The cable brackets use bolts to keep the brackets in place which keep the parking brake cables in place.
GM says the bolts could loosen and cause the brackets to loosen, which loosens the parking brake cables. The parking brake will fail if the cables aren't tightened to specification.
GM didn't provide information about how the defect was discovered, but dealers will need to inspect and tighten the parking brake bracket bolts. Owners of the recalled 2015 Chevrolet Cruze will receive mailed notification by the end of March 2015 and will be provided with courtesy transportation if needed.
With questions or concerns, contact Chevrolet customer service at 800-222-1020 and give them recall number 15135.