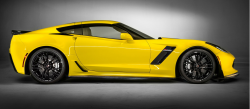 — General Motors is recalling just 43 new 2015 Chevy Corvettes for a dangerous condition where a driver could lose control due to a rear suspension problem.
GM says the new Corvettes have a toe link outer ball joint that may not have been tightened properly during manufacturing. A driver will likely hear metallic sounds when hitting bumps in the road.
A loose toe link on the rear suspension is one thing, but it will be a real problem if the toe link completely separates.
GM says the recalled 2015 Chevy Corvettes were built September 26, 2014, to October 2, 2014.
The automaker hasn't released a schedule of when the recall will begin but said the 43 cars will need the affected parts replaced.
Owners can contact Chevy customer service at 800-222-1020 and give them recall number 14857.