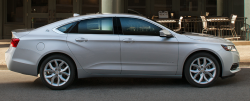 — General Motors is recalling almost 1,200 model year 2014 Chevrolet Impala cars because the brake pads can fail to release from the rotors.
The Impala recall is an extension of a recall first ordered in September 2014. The previous recall involved 133,000 model year 2013-2015 Cadillac XTS and 2014-2015 Chevrolet Impalas that could stop in the road as if an owner slammed on the brakes.
The 2014 recall was preceded by a federal investigation after the owner of an Impala reported the car kept abruptly stopping.
GM says the problem is caused by an electronic parking brake piston actuation arm that doesn't fully retract when a driver takes their foot off the brake pedal. Brake pads that stay in contact with the rotors increases the chance of a fire from heat created by the brake pads.
GM says the recalled Chevy Impalas were manufactured November 15, 2012, to May 27, 2014.
The automaker hasn't said when the Impala recall will begin. Chevy dealers will install new software and reprogram the electronic parking brake control module.
Owners of the 2014 Chevy Impala who have questions should call Chevrolet customer service at 800-222-1020 and give them recall number 15100.